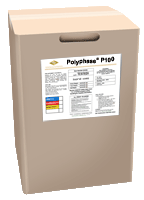 Polyphase P100 is an off-white crystalline solid, non-phenolic fungicide. Polyphase P100 provides protection against fungus in adhesives, canvas and cardage, shower curtains, tarpaulins, umbrellas, textiles, wood products, paints, stains, cutting oils, and inks. Polyphase P100 meets the requirements of FDA 21CFR 171.105. Polyphase P100 is heat stable up to 350⁰F (177⁰C). (EPA Registration Number 5383-50)


In order to view product information and literature, you must be a registered user.
To become a registered user of the Troy website, Click Here.
Already registered? Click Here to Login.

Back