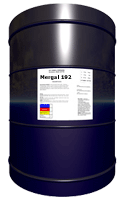 Mergal 192 is a liquid, water soluble organic preservative designed for use in aqueous based coatings. For use in resin emulsions, waterborne paints, inks, non-food contact adhesives, metalworking fluids, oil field water system and drilling muds, and workover and completion fluids. For use in coatings with a pH of 7 or greater. (EPA Registration Number 5383-82)


In order to view product information and literature, you must be a registered user.
To become a registered user of the Troy website, Click Here.
Already registered? Click Here to Login.

Back