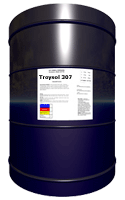 Troysol 307 is a silicone copolymer that eliminates air entrainment in reactive formulations such as epoxy, and urethanes. It provides improved surface flow, and eliminates common defects as fisheyes and orange peel. It is very effective in high-solids coating formulations. Low use concentrations result in low cost-in-use performance for the coatings manufacturer.
Polymer Systems:
two component epoxy, two component urethane, moisture cure urethane

In order to view product information and literature, you must be a registered user.
To become a registered user of the Troy website, Click Here.
Already registered? Click Here to Login.

Back