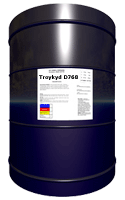 Troykyd D768 is a blend of mineral oil, silica, and surfactants that is highly dispersible in water systems. It provides efficient bubble-breaking and air-release performance over a wide range of pH and temperatures.
Polymer Systems:
acrylic, styrene-acrylic, vinyl acetate-ethylene, vinyl-acrylic

In order to view product information and literature, you must be a registered user.
To become a registered user of the Troy website, Click Here.
Already registered? Click Here to Login.

Back