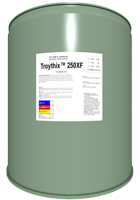 The strong thixotropic properties of Troythix™ 250XF result in non-sag performance when incorporated in bonding adhesives. Troythix™ 250XF is supplied as a pre-activated paste allowing ease of incorporation.
Polymer Systems:
Acrylics, cyanoacrylates, epoxies, silicones, urethanes

In order to view product information and literature, you must be a registered user.
To become a registered user of the Troy website, Click Here.
Already registered? Click Here to Login.

Back