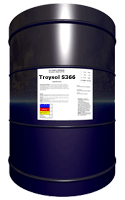 Troysol S366 is a flow and leveling additive for solvent-based formulations that prevents pinholes and addresses poor coverage problems, including those caused by inadequately or improperly cleaned substrates. Troysol S366 improves substrate wetting of most non-aqueous adhesive and sealant formulations. The product is recommended for urethanes, polyesters, epoxies, vinyls, UV curable, and other non-aqueous formulations and is typically effective at 0.2-0.6% by weight.
Polymer Systems:
Acrylic, cellulose acetate butyrate, cellulose acetate propionite, chlorinated rubber, hydrocarbon, nitrocellulose, oil, rosin, varnish, vinyl

In order to view product information and literature, you must be a registered user.
To become a registered user of the Troy website, Click Here.
Already registered? Click Here to Login.

Back