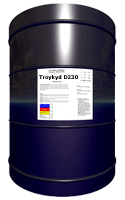 Troykyd D230 is a strong antifoam that is excellent for color pigment concentrates and other pigment slurries. It is effective in the grind phase of a wide range of coatings and is not adversely affected by prolonged residence time in the manufacturing process. It is used in combination with a high-performance defoamer, such as D740, for optimum process and application foam control.
Polymer Systems:
acrylic, fumaric-rosin, styrene-acrylic, styrene-maleic

In order to view product information and literature, you must be a registered user.
To become a registered user of the Troy website, Click Here.
Already registered? Click Here to Login.

Back