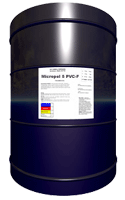 Micropel 5 PVC-F is a 5 % concentration of OBPA in polyvinylchloride homopolymer resin that provides broad spectrum antimicrobial protection in polymeric materials. Micropel 5 PVC-F is used to treat PVC and rubber compounds to prevent the growth of fungal, bacterial and algal organisms on the finished article.

In flexible PVC compounds, Micropel 5 PVC-F can be added during the dry blending process or directly into the Banbury or continuous mixing extruder.

For other applications, Micropel 5 PVC-F should be added as early as possible in the compound mixing cycle.





To view a Micropel® 5 PVC-F Safety Data Sheet and/or Technical Data Sheet, please Login.