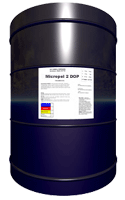 Micropel 2 DOP is a 2% solution of OBPA in dioctyl phthalate plasticizer that provides broad spectrum antimicrobial protection in polymeric materials. Micropel 2 DOP is used to treat PVC, polyurethanes, and rubber compounds to prevent the growth of fungal, bacterial and algal organisms on the finished article.

In flexible PVC compounds, Micropel 2 DOP should be added with the plasticizer during the mixing process.

In polyurethanes, Micropel 2 DOP should be added to the polyol prior to reaction with the isocyanate. It may also be metered directly into the mixing head in urethane foam manufacturing.

For other applications, Micropel 2 DOP should be added as early as possible in the compound mixing cycle.





To view a Micropel® 2 DOP Safety Data Sheet and/or Technical Data Sheet, please Login.