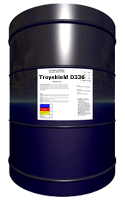 The active ingredient of Troykyd® D336 is based upon a synthetic wax, which is dispersed in a hydrocarbon carrier system. For concentrate and tankside applications, Troykyd® D336 is also recommended for aqueous cleaning formulations.


In order to view product information and literature, you must be a registered user.
To become a registered user of the Troy website, Click Here.
Already registered? Click Here to Login.

Back