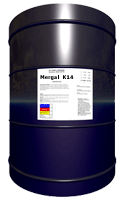 Mergal K14 is a water-soluble liquid preservative for control of bacteria, yeast, mold, and algae in adhesives, emulsions, dispersion paints and coatings, metalworking fluids, and building material. Intended for use in aqueous products with a range of pH 3-9. (EPA Registration Number 5383-104)

Chemical Inventory:
NZIOC - New Zealand
NECI - Taiwan


In order to view product information and literature, you must be a registered user.
To become a registered user of the Troy website, Click Here.
Already registered? Click Here to Login.

Back