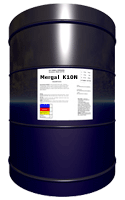 Mergal K10N is a VOC-free, water-based preservative to prevent deterioration and degradation caused by bacteria and fungi. For use in water-borne adhesives, sealants, and pigment slurries. This low viscosity solution is free of solvents and surfactant and is convenient to handle year-round. Add as early in production as possible. (EPA Registration Number 5383-107)

Chemical Inventory:
NZIOC - New Zealand
NECI - Taiwan


In order to view product information and literature, you must be a registered user.
To become a registered user of the Troy website, Click Here.
Already registered? Click Here to Login.

Back