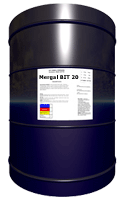 Mergal® BIT20 is based on BIT chemistry, is compatible over a wide pH range, and is heat stable and formaldehyde-free. Mergal® BIT20 is stable in high pH formulations and is compatible with amines and amine containing additives.
(EPA Registration Number 5383-121)


In order to view product information and literature, you must be a registered user.
To become a registered user of the Troy website, Click Here.
Already registered? Click Here to Login.

Back