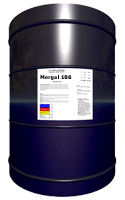 Mergal® 186 is a clear, water soluble liquid preservative for control of bacteria in aqueous-based systems. For use in resin emulsions, pigment slurries, water-borne paints, dispersed colors, joint cements, non-food contact adhesives, and metalworking fluids. Provides broad color stability. Add as early as possible in the production process, but after elevated temperatures have been moderated. Mergal 186 can also be utilized to recover spoiled material. For use in products with a pH of 7 or greater.
(EPA Registration Number 5383-90)

Chemical Inventory:
NZIOC - New Zealand
NECI - Taiwan


In order to view product information and literature, you must be a registered user.
To become a registered user of the Troy website, Click Here.
Already registered? Click Here to Login.

Back