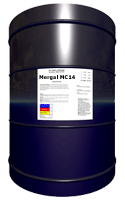 Mergal MC14 is a formaldehyde-free, VOC-free, fast-acting, effective, liquid in-can preservative with a broad-spectrum of activity against bacteria, yeasts and molds, designed for protection of aqueous systems. It provides an excellent headspace protection. Intended for use in aqueous products with a range of pH 3-9.


In order to view product information and literature, you must be a registered user.
To become a registered user of the Troy website, Click Here.
Already registered? Click Here to Login.

Back