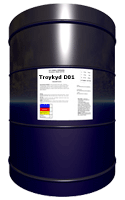 Troykyd D01 is a hydrophobic silica based defoamer. Its versatility provides rapid air release in the grind and letdown phases of flat to semi-gloss architectural coatings. This product provides fast bubble break during roller and spray applications. Troykyd D01 has excellent long term persistence.
Polymer Systems:
acrylic, vinyl-acrylic, styrene acrylic, vinyl acetate-ethylene

In order to view product information and literature, you must be a registered user.
To become a registered user of the Troy website, Click Here.
Already registered? Click Here to Login.

Back