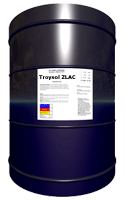 Troysol™ ZLAC is a multipurpose, silicone-free wetting additive that improves substrate wetting, system flow and leveling, adhesion, gloss and color uniformity in aqueous coating, emulsion polymer, ink and adhesive applications. Troysol ZLAC provides all of the benefits of Troysol LAC with no contribution to VOC in aqueous systems.
Resins:
acrylic, styrene acrylic, styrene butadiene, vinyl acetate-ethylene, vinyl acrylic

In order to view product information and literature, you must be a registered user.
To become a registered user of the Troy website, Click Here.
Already registered? Click Here to Login.

Back