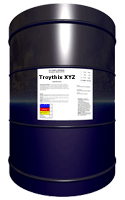 Troythix XYZ, a castor oil ester, is activated by temperature and shear energy to increase viscosity by setting up a gel structure. Troythix™ XYZ is used in coatings containing aliphatic solvent. It provides high thixotropy resulting in resistance to sag and settling. Troythix™ XYZ is used with low shear energy milling formulations such as a ball mill.
Polymer Systems:
alkyd, oil, oleoresinous varnish

In order to view product information and literature, you must be a registered user.
To become a registered user of the Troy website, Click Here.
Already registered? Click Here to Login.

Back