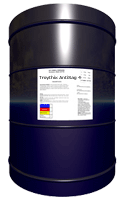 Troythix Anti-Sag 4, a sulfonated castor, prevents pigment agglomeration and pigment settling without increasing viscosity. It is easily incorporated, and can be post-added to increase sag resistance. Troythix™ Anti-Sag 4 reduces substrate penetration, pigment floating, and does not affect gloss.
Polymer Systems:
alkyd, epoxy ester, oil, oil-modified urethane

In order to view product information and literature, you must be a registered user.
To become a registered user of the Troy website, Click Here.
Already registered? Click Here to Login.

Back