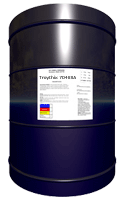 Troythix 704SSA increases resistance to pigment settling without increasing the application viscosity. It is particularly beneficial for industrial applications including primers, dip coatings, stains and other low gloss formulations. Troythix 704SSA is effective in most non-aqueous, solvent-free and water reducible coatings.
Polymer Systems:
acrylic, alkyd, acrylic, chlorinated rubber, polyester, epoxy ester, vinyl, water reducible acrylic, water reducible alkyd, water reducible epoxy, water reducible polyester, water reducible urethane

In order to view product information and literature, you must be a registered user.
To become a registered user of the Troy website, Click Here.
Already registered? Click Here to Login.

Back