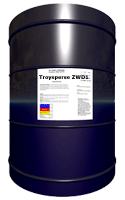 Troysperse™ ZWD1 is a 100% active liquid dispersing and wetting additive for the dispersion of organic and inorganic pigments in aqueous coating and printing Ink applications. ZWD1 is especially effective for the preparation of aqueous color pigment concentrates. Troysperse ZWD1 offers performance advantages that result in excellent dispersion and provide low cost-in-use.
Polymer Systems:
Acrylic, cellulose acetate butyrate, cellulose acetate propionite, chlorinated rubber, hydrocarbon, nitrocellulose, oil, rosin, varnish, vinyl

In order to view product information and literature, you must be a registered user.
To become a registered user of the Troy website, Click Here.
Already registered? Click Here to Login.

Back