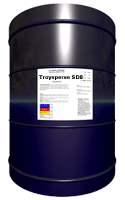 Troysperse™ SD8 is a highly effective polymeric pigment dispersant and wetting additive for nonaqueous systems. Troysperse SD8 promotes efficient pigment dispersion at low use levels resulting in low cost-in-use. The strong viscosity reduction imparted by Troysperse SD8 allows for high pigment loading with improved resistance to pigment settling.
Polymer Systems:
Acrylic, acrylic grafted polyamides, styrene acrylic, sulfonated polyesters, shellac, water soluble polyurethane

In order to view product information and literature, you must be a registered user.
To become a registered user of the Troy website, Click Here.
Already registered? Click Here to Login.

Back