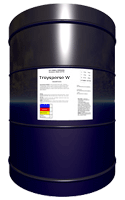 Troysperse W is an amphoteric, fatty-amine-based dispersing additive for difficult-to-disperse pigments, such as carbon black, phthalocyanines and other organic pigments. It is also very effective in providing improved clarity in semi-transparent, iron-oxide coatings. Troysperse W improves color strength, increases gloss, and reduces processing time. In addition, the low use concentrations allow for excellent cost-in-use.
Polymer Systems:
Acrylic, acrylic grafted polyamides, styrene acrylic, sulfonated polyesters, shellac, water soluble polyurethane

In order to view product information and literature, you must be a registered user.
To become a registered user of the Troy website, Click Here.
Already registered? Click Here to Login.

Back