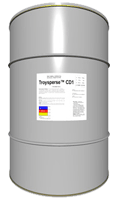 Troysperse CD1 is an alkyd-based, general-purpose dispersing additive for titanium dioxide and inorganic pigments. It can be used with carbon black and organic pigments where maximum color strength and transparency are not critical. It allows the ink formulator to achieve high pigment concentrations, stable dispersions and fast dispersion times.
Polymer Systems:
Acrylic, cellulose acetate butyrate, cellulose acetate propionite, chlorinated rubber, hydrocarbon, nitrocellulose, oil, rosin, varnish, vinyl

In order to view product information and literature, you must be a registered user.
To become a registered user of the Troy website, Click Here.
Already registered? Click Here to Login.

Back