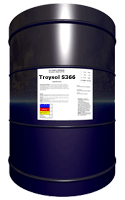 Troysol S366 promotes the wetting of contaminated surfaces such as metal and difficult-to-wet surfaces such as plastic. It improves surface appearance by promoting surface flow to eliminate craters and fisheyes. Typical applications include aerospace, automotive, coil, heavy equipment, metal decorating, and transportation. It is easily incorporated for production batch adjustment.
Polymer Systems:
Acrylic, cellulose acetate butyrate, cellulose acetate propionite, chlorinated rubber, hydrocarbon, nitrocellulose, oil, rosin, varnish, vinyl

In order to view product information and literature, you must be a registered user.
To become a registered user of the Troy website, Click Here.
Already registered? Click Here to Login.

Back