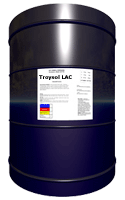 Troysol™ LAC promotes superior wetting for aqueous coatings and adhesives applied to low energy substrates such as polyester, vinyl, and wax coated paper. Low concentrations reduce the surface tension resulting in improved adhesion, excellent flow and leveling. It prevents pinholes and crawling in critical applications such as tapes, and pressure sensitive adhesives. Troysol LAC can be easily incorporated for production batch adjustment.
Resins:
acrylic, styrene acrylic, styrene butadiene, vinyl acetate-ethylene, vinyl acrylic

In order to view product information and literature, you must be a registered user.
To become a registered user of the Troy website, Click Here.
Already registered? Click Here to Login.

Back