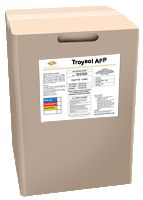 Troysol AFP is a surface active additive to reduce pigment flooding and pigment floating in non-aqueous coatings. This insures a uniform color (no floating) and the correct color (no flooding) for the dry coating. Troysol AFP stabilizes the surface tension forces during the drying process. Troysol AFP reduces color float in spray or dip applications. It minimizes flooding and floating problems in coatings that are tinted at the time of sale or use.
Resins:
acrylic, alkyd, epoxy, nitrocellulose, polyester, urethane

In order to view product information and literature, you must be a registered user.
To become a registered user of the Troy website, Click Here.
Already registered? Click Here to Login.

Back