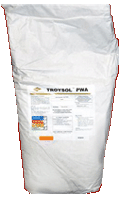 Troysol™ PWA is a solid wetting additive that improves adhesion to substrates and increases pull off strength of cement based adhesives. It also allows reduction of the water/cement ratio and lowers viscosity of mixes thereby improves flow and workability.

In order to view product information and literature, you must be a registered user.
To become a registered user of the Troy website, Click Here.
Already registered? Click Here to Login.

Back