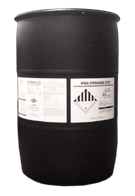 Troysol™ Z370 is a high performance substrate wetting and mar & slip additive for solvent, water-reducible and aqueous systems. Troysol Z370 improves the wetting of low surface energy and contaminated substrates, resulting in uniform film coverage. Troysol Z370 enhances surface flow and leveling and stabilizes surface tension gradients upon application and during cure. This helps prevent surface defects such as craters, pinholes, and orange peel. The surface slip is increased and the gloss is improved when used in most coating systems. Troysol Z370 is an alkyl phenol ethoxylate-free, zero VOC, high performance additive.
Resins:
acrylic, alkyd, melamine, chlorinated rubber, epoxy, polyester, urethane, vinyl

In order to view product information and literature, you must be a registered user.
To become a registered user of the Troy website, Click Here.
Already registered? Click Here to Login.

Back