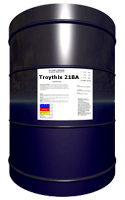 Troythix 21BA increases viscosity by providing controlled flocculation of pigment particles. It is effective in pigmented coatings containing oxidizing resins and aliphatic solvents. Troythix™ 21BA imparts a high degree of thixotropy resulting in reduced sag and pigment settling.
Polymer Systems:
alkyd, oil, oleoresinous varnish

In order to view product information and literature, you must be a registered user.
To become a registered user of the Troy website, Click Here.
Already registered? Click Here to Login.

Back