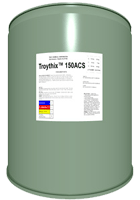 The strong thixotropic properties of Troythix™ 150ACS result in increased resistance to pigment settling while providing the necessary balance between sag resistance and flow and leveling required for high gloss coatings. It is suitable for industrial high gloss coatings including automotive, metal decorating, maintenance, wood and furniture. Troythix™ 150ACS is supplied as a pre-activated paste, allowing post-addition for batch correction. It provides excellent suspension for matting pigments in clear low gloss finishes.
Polymer Systems:
Acrylics, cyanoacrylates, epoxies, silicones, urethanes

In order to view product information and literature, you must be a registered user.
To become a registered user of the Troy website, Click Here.
Already registered? Click Here to Login.

Back