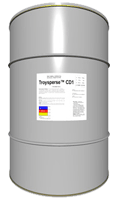 Troysperse CD1 is an alkyd-based, general-purpose dispersing additive for titanium dioxide and iron-oxide pigments in non-aqueous formulations. It allows the coating formulator to achieve higher pigment concentrations and faster dispersion times, while providing very good color acceptance and gloss. Troysol CD1 is especially effective in the preparation of Bentone gels.
Polymer Systems:
Acrylic, cellulose acetate butyrate, cellulose acetate propionite, chlorinated rubber, hydrocarbon, nitrocellulose, oil, rosin, varnish, vinyl

In order to view product information and literature, you must be a registered user.
To become a registered user of the Troy website, Click Here.
Already registered? Click Here to Login.

Back