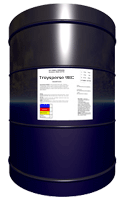 Troysperse 98C is an amphoteric, long-chain dispersing additive for difficult-to-disperse pigments such as carbon black, phthalocyanines, lithol rubine, diarylide yellow and other organic pigments. Troysperse 98C is 95% active providing optimum dispersion performance while allowing the formulator to select solvents suitable for ink formulations. Troysperse 98C is effective at low use concentrations, providing excellent cost-in-use. It provides improved color strength and transparency and allows higher pigment loading for color pigment concentrates and inks across a wide range of resin and pigment chemistries.
Polymer Systems:
Acrylic, cellulose acetate butyrate, cellulose acetate propionite, chlorinated rubber, hydrocarbon, nitrocellulose, oil, rosin, varnish, vinyl

In order to view product information and literature, you must be a registered user.
To become a registered user of the Troy website, Click Here.
Already registered? Click Here to Login.

Back