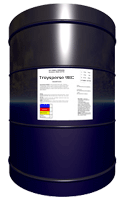 Troysperse 98C is an amphoteric, long-chain dispersing additive for difficult-to-disperse pigments such as carbon black, phthalocyanines, and other organic pigments. Troysperse 98C is 95% active. The high level of activity provides the necessary dispersion performance without burdening the formulator with the higher solvent concentrations of other Dispersing Additives. Troysperse 98C is effective at low use concentrations, providing excellent cost-in-use. It improves color strength, increases gloss, and allows higher pigment loading for color pigment concentrates and coatings across a wide range of resin and pigment chemistries. Troysperse 98C is especially effective for high-solids coatings.
Polymer Systems:
Acrylic, cellulose acetate butyrate, cellulose acetate propionite, chlorinated rubber, hydrocarbon, nitrocellulose, oil, rosin, varnish, vinyl

In order to view product information and literature, you must be a registered user.
To become a registered user of the Troy website, Click Here.
Already registered? Click Here to Login.

Back