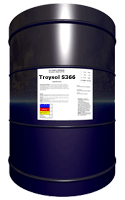 Troysol S366 promotes the wetting of contaminated surfaces such as metal and difficult-to-wet surfaces such as plastic and ceramic. It improves surface appearance by promoting surface flow to eliminate craters and fisheyes. Typical applications include adhesives and paints.
Polymer Systems:
Acrylic, cellulose acetate butyrate, cellulose acetate propionite, chlorinated rubber, hydrocarbon, nitrocellulose, oil, rosin, varnish, vinyl

In order to view product information and literature, you must be a registered user.
To become a registered user of the Troy website, Click Here.
Already registered? Click Here to Login.

Back