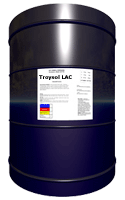 Troysol™ LAC promotes superior wetting for aqueous and water reducible inks applied to low energy surfaces. Low concentrations reduce the coating surface tension resulting in improved adhesion, excellent flow and leveling, with the elimination of surface defects. Troysol LAC in flexo inks promotes excellent wetting of foils and plastic films. It allows the formulation of aqueous overprint varnishes with excellent film properties. Troysol LAC has FDA approvals.
Resins:
acrylic, styrene acrylic, styrene butadiene, vinyl acetate-ethylene, vinyl acrylic

In order to view product information and literature, you must be a registered user.
To become a registered user of the Troy website, Click Here.
Already registered? Click Here to Login.

Back