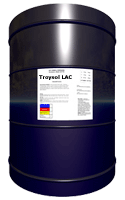 Troysol LAC is a flow control and substrate wetting additive enhancing the ability of waterborne formulations to coat hydrophobic substrates such as polypropylene, wax coated paper, oily surfaces, and many other low energy surfaces. LAC lowers the surface tension of water to 25 dynes/cm at 0.1% concentration. The product prevents pinholes and cratering and is recommended for tapes and pressure sensitive adhesives. Troysol LAC is also used in the production of emulsion polymers as a polymerization surfactant.
Resins:
acrylic, styrene acrylic, styrene butadiene, vinyl acetate-ethylene, vinyl acrylic

In order to view product information and literature, you must be a registered user.
To become a registered user of the Troy website, Click Here.
Already registered? Click Here to Login.

Back