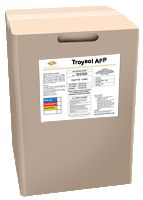 Troysol AFP is a surface active additive to reduce pigment flooding and pigment floating in non-aqueous arts and crafts and paints. The use of Troysol AFP insures a uniform color (no floating) and the correct color (no flooding) for the dry coating.
Resins:
acrylic, alkyd, epoxy, nitrocellulose, polyester, urethane

In order to view product information and literature, you must be a registered user.
To become a registered user of the Troy website, Click Here.
Already registered? Click Here to Login.

Back