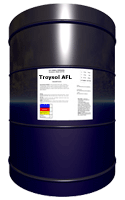 Troysol AFL is a mixture of polymeric materials. It provides superior air release when used in industrial coating applications, such as wood finishing, furniture finishing, automotive, coil coating and metal decorating. It eliminates air entrainment in polyester gel coats. Troysol AFL has the added advantage of eliminating pigment floating in non-aqueous formulations. It provides a unique combination of bubble release with good flow and leveling.
Polymer Systems:
acrylic, epoxy, polyester, urethane

In order to view product information and literature, you must be a registered user.
To become a registered user of the Troy website, Click Here.
Already registered? Click Here to Login.

Back