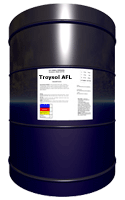 Troysol AFL provides superior air release when used in industrial bonding applications. Applications include bonding adhesives for automotive, construction, marine and other industries. It is also effective in consumer bonding products for ceramic, plastic, metal and wood.
Polymer Systems:
acrylic, epoxy, polyester, urethane

In order to view product information and literature, you must be a registered user.
To become a registered user of the Troy website, Click Here.
Already registered? Click Here to Login.

Back