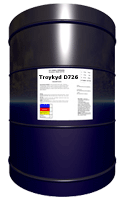 Troykyd D726 is a robust defoamer containing multi-hydrophobes. It provides long term defoaming efficacy in flat to gloss architectural coatings. Troykyd D726 can often be used as a single defoaming material in formulations where multiple defoamers have been required previously for adequate defoaming function. . Its strong performance provides excellent cost-in-use.
Polymer Systems:
acrylic, vinyl-acrylic, styrene acrylic, vinyl acetate-ethylene

In order to view product information and literature, you must be a registered user.
To become a registered user of the Troy website, Click Here.
Already registered? Click Here to Login.

Back