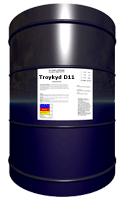 Troykyd D11 is especially effective for monomer stripping and degassing of difficult anionic surfactant stabilized polymer emulsions. This product also provides superior persistence in high-solids emulsions. It is easily dispersible and does not contribute to emulsion instability.
Polymer Systems:
acrylic, styrene-acrylic

In order to view product information and literature, you must be a registered user.
To become a registered user of the Troy website, Click Here.
Already registered? Click Here to Login.

Back