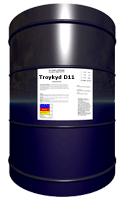 Troykyd D11 is especially effective for adhesive products applied in industrial applications. In curtain coating applications, its silicone free composition does not adversely affect curtain integrity. It is also effective in pressure sensitive, surface mount and consumer emulsion type adhesives.
Polymer Systems:
acrylic, styrene-acrylic

In order to view product information and literature, you must be a registered user.
To become a registered user of the Troy website, Click Here.
Already registered? Click Here to Login.

Back